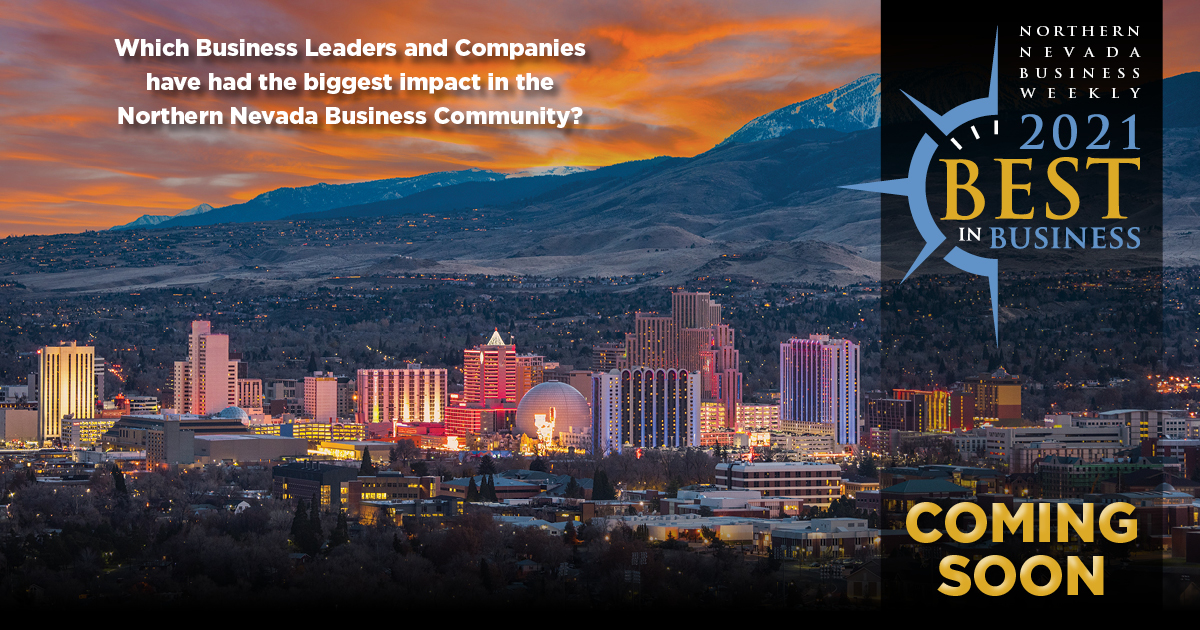 The NNBW Best In Business competition returns on August 18
Northern Nevada Business Weekly's 2021 Best In Business competition is expected to return this month with the nomination period kicking off on Wednesday, August 18.
The competition will be available on nnbw.com/bestinbusiness2021 – here are some of the key details of this year:
As in previous years, the 2021 competition will be split into two phases: a nomination period and a voting period, both of which will be managed by an independent third-party platform through the NNBW website (no paper ballots will be accepted; it's all digital).
The nomination period runs from August 18 at 12:01 a.m. to September 7 at 11:59 p.m., during which readers can nominate any person or company in any of the 18 categories.
Once the nomination period is over, NNBW staff will spend time sorting the nominations to ensure accuracy.
Then, the voting period is scheduled from September 22 to October 5, during which readers can vote once per day for their preferred candidate in each of the 18 categories.
After October 5th, NNBW staff will count the votes and announce 10 finalists for each category in November, which means we will have a total of 180 finalists.
To wrap up, the 18 winners (including second and third places) will be announced on December 29, 2021, both on our website and in the Northern Nevada 2022 Book of Lists, the 14th annual edition of our special section of marquee which is scheduled to be released the same day.
You can go here to see the full list of Best In Business 2020 competition winners.
HOW TO APPOINT

Here is the breakdown of the 18 categories for 2021:
PEOPLE
Most influential professional (opinion leaders)
New Nevada Innovator (Movers & Shakers)
Leader to know (high profile)
CORPORATE COMMUNITY
Most sustainable company (green and respectful of the environment)
Most philanthropic company (Community Give Back)
Most diversified company (diverse workforce)
BEST IN BUSINESS
Best accounting firm
Best Law Firm
Best Bank // SBA Lender
Best credit union
Best Loan and Title Company
Best company / construction company
Best Commercial Real Estate Company
Best Residential Real Estate Company
Best hospital and healthcare provider
Best Commercial / Residential Developer
Best Manufacturing / Logistics Company
Best company / tech company
To nominate, starting August 18, go to nnbw.com/bestinbusiness2021, click or tap each of the three main categories, enter the full name and correct spelling of the person you want to name in each subcategory, provide a photo and a brief description of why this person or business deserves, and submit.
Questions? Please contact Melissa Saavedra, Associate Editor of NNBW at [email protected] or editor-in-chief Kevin MacMillan at [email protected].