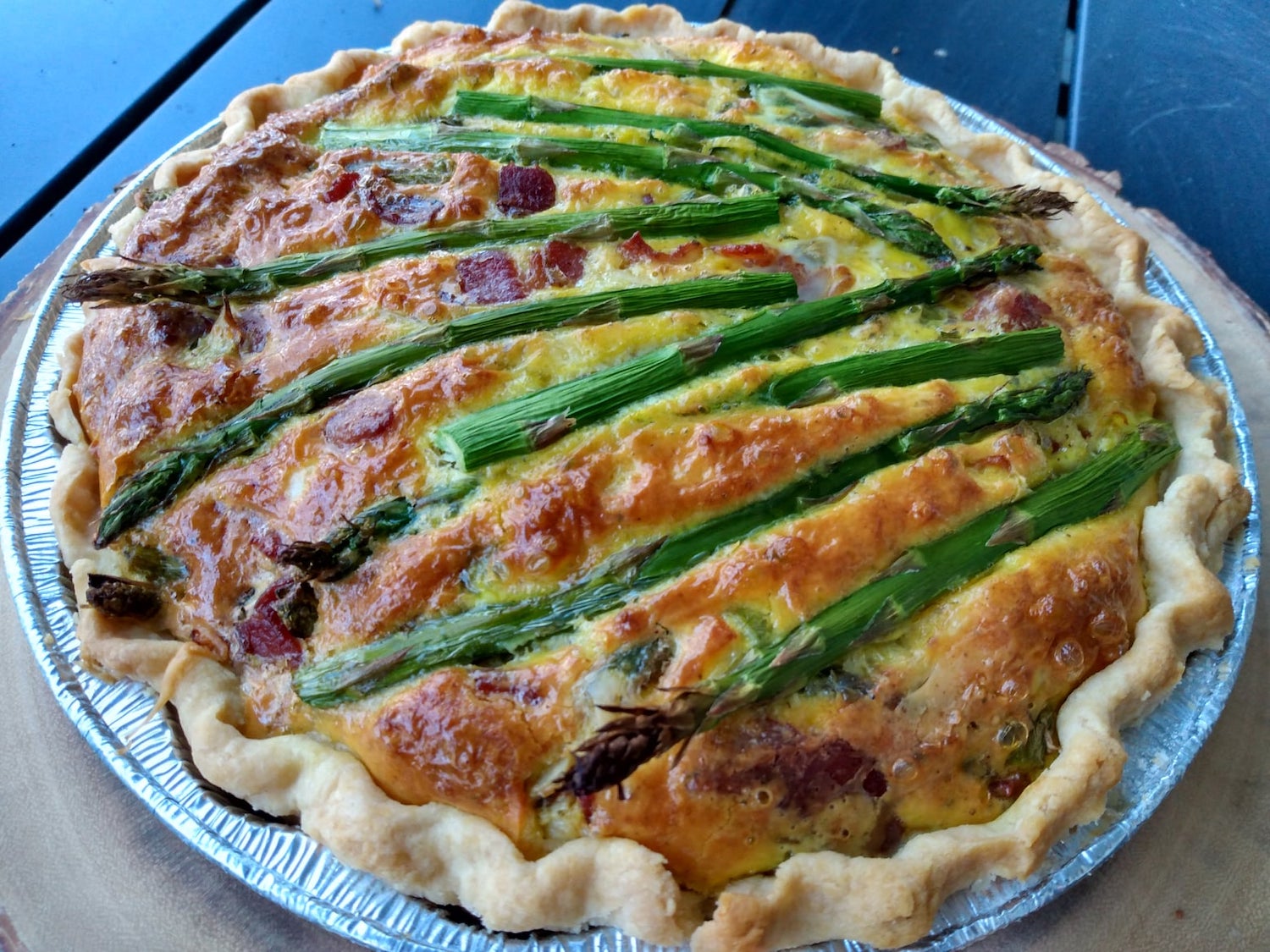 Tara Riddle: Quiche for a perfect brunch (recipe)
I decided to create a fresh and light spring quiche, in honor of the season. This is the perfect recipe for brunch or dinner. If you plan to serve it for brunch, shop around for seasonal fruit to go with it. If this is on the dinner menu at your house tonight, serve it with a side salad and a nice balsamic vinaigrette.
There is some debate about the origin of the quiche. Some say it's French cuisine, while others say Germany has a right to it. My thoughts are I don't care! It's delicious, so thank you France and Germany for this sparkling creation.
When I think of spring, I think of Easter and eggs, green grass and sunshine… that's what this quiche means to me. It's a savory springtime pie, using ingredients like asparagus and bacon. My vegan friends can omit the bacon and add artichoke instead. Simply sauté your artichoke with your onion and asparagus.
Quiche
Ingredients
2 bunches of asparagus
10 slices of bacon
½ onion
1 tbsp garlic
2 tablespoons Dijon mustard
8-10 eggs
Just a little cream
½ cup Asiago cheese
We want to start by cooking the bacon. We are not beginners. We don't just put raw bacon in the quiche and expect it to cook. Cook the bacon, until the end. It won't burn. Use this simple kitchen trick by cutting raw bacon into strips with scissors. This makes cooking easier and faster. It also cooks bacon more evenly. Put the cooked bacon to the side and let it rest on a paper towel.
Save the fat!
Finely chop your onion and cut your asparagus into 1-inch-long pieces. Sauté it in bacon grease… Talk about delicious veggies. When they are well seared with a little caramelization on them, remove them from the heat and remove them from the fat.
In another bowl, combine the eggs, Dijon mustard, salt, pepper, garlic and a little cream. Use your egg whisk and beat until Dijon is fully incorporated.
It's up to you if you want to make a pie crust from scratch or just buy it from the store. Because I'm a busy Realtor at Coldwell Banker Select and a single mom, I go to the grocery store and buy myself some pastry!
I can make my own crust if I wanted to. As a former employee of Comma Coffee, I was responsible for making quiches every week. But, I'm exhausted at the end of the day, so don't judge me; I cheat a little. LOL.
Next we want to get another mixing bowl and put our bacon, asparagus, onions and asiago cheese together and stir. Pour it into your pie shell and spread it evenly. Next, we're going to take our egg mixture and pour it into the pie crust. This is how you get the moistness of your quiche. I like fluffy eggs.
Use 5-6 whole asparagus tips and drape them over the top of the quiche before baking. It will look beautiful and professional when the final product comes out of the oven.
Bake at 400 degrees for about 50-60 minutes, or until center does not budge. Leave to rest for about 15 to 20 minutes before serving, so that everything sets properly.
Serve with:
Salad or fruit
Pineapple Mimosas (I like to use Trader Joe's Cold Pressed Pineapple Juice)
Enjoy this spring delight! Take a photo and tag me on Facebook! I love seeing my recipes recreated.
Tara Riddle is a Realtor at Coldwell Banker Select. She once worked at Comma Coffee in Carson City, making desserts like muffins and soups from scratch.