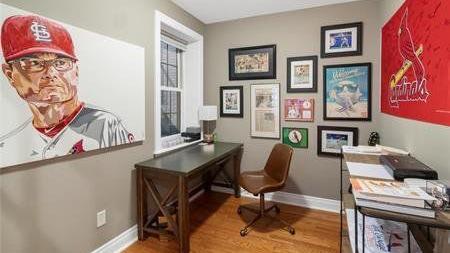 Mike Shildt's condo in Moorlands hits the real estate market | Joe's Saint-Louis
CLAYTON – A new vacancy has hit the real estate market.
The Clayton condo owned by the recently dismissed Cardinals manager Mike shildt is available now – at the low, low price of $ 375,000 – unless you have "philosophical differences" with those who enjoy the timeshare life.
The six unit unit is located at 7520 Buckingham (its is Unit 2E) and was built in 1935. It is located in the Moorlands area south of Wydown Boulevard. The 1,360 square foot two bedroom, two bathroom unit is located in the Clayton School District.
According to the property's pitch, the condominium "has arguably the best appeal in the entire Moorlands area" and is located "within walking distance of the restaurants and cafes of Wydown Boulevard".
Some of the specific special touches include: French doors opening onto a front balcony; a chef's kitchen with custom cabinets; and an office next to the main living room.
(No word on whether the purchase includes Shildt's portrait hanging on the desk.)
St. Louis County property records indicate that Shildt purchased the condo in November 2018 for $ 345,000.
He was fired on October 14 by the team's operations chief Jean Mozéliak, who cited "philosophical differences" with the manager.