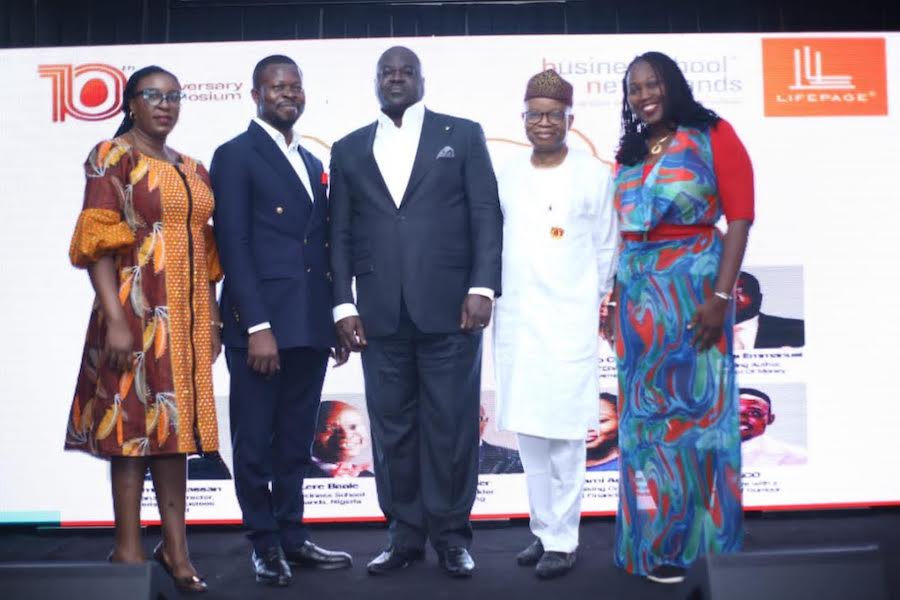 LIFEPAGE, Stakeholder brainstorm on real estate investment
Bennett Oghifo
Within the framework of activities planned within the framework of its 10and commemorating the anniversary, LIFEPAGE in partnership with Business School, Netherlands organized a symposium to reflect on the opportunities for wealth creation in the Nigerian real estate sector.
The symposium held over the weekend at the Civic Centre, Victoria Island Lagos brought together attendees from across the country with experts from the branding industry, financial institutions, business establishments education and real estate businesses as guest speakers – who delivered various lectures with special highlights on; Government policies and framework; Growth Strategies for Sector Operators; Brand positioning and promotions; Investment opportunities and partnerships; Attracting direct foreign funds and financing, and project financing options/financing structures – REITs, CPs, bonds, etc.
In his keynote speech, Mr. Oladipupo Clement, LIFEPAGE CEO/Organizer, who focused on real estate agents, said that there are four main ways to play in the real estate space – ranging from being a regulator , a developer, an investor to be a real estate agent. For him, being a real estate agent is the cheapest way to play in the industry as it requires connecting buyers to sellers.
He alluded to Agusto & Co's Property Sector Report 2020 which indicates that the Nigerian property sector two years ago in terms of size is valued at $3.96 trillion. Implying that without any financial input from real estate agents, connecting buyers to sellers will earn them hassle-free revenue – a system that has worked for brands in other markets like; Amazon, Nike and many more who play in other industries.
LIFEPAGE, as a company, according to Mr. Clement has played successfully over the past 10 years both as an investor and a developer. Adding that as a developer, it is difficult to meet challenges in this market, especially due to the fluctuating costs of project developments, inflation rates, among others.
There are several opportunities to succeed as a real estate agent in Nigeria, according to the organizer. However, the sponsorship method that requires little or no funding to start, remains the cheapest. This method is the one that everyone uses without even knowing it or being rewarded and that is where we have played successfully as a company. We have structures in place to ensure that everyone benefits from their efforts.
In his words; there are several questions to help a real estate agent set the tone for their journey to wealth; "Here's how you can succeed as a real estate agent – ​​the first is; how much money do you want to earn? How many sales will bring in the amount you want? How many products would you sell to reach your goal? And who needs what you sell or who knows who needs what you sell? If you can resolve these questions, you are well on your way to starting your journey to success. »
The organizer, who also talked about the LIFEPAGE business and how it all started, told attendees that every opportunity is tied to the ability to sell on time, which also starts with understanding the industry. and the handling of requests. "LIFEPAGE itself started out selling for other companies." He ended his session with the opportunity for participants to become a LIFEPAGE partner through its regular bootcamp for estate agents, adding that the Nigerian property market is huge and its surface is yet to be scratched.
Other phenomenal speakers who steered attendees towards wealth creation and retention through the real estate vehicle during the symposium included; (Mr. Leke Alder – Principal, Alder Consulting, Dr. Olumide Emmanuel – Bestselling Author, The school of Money, Prof. Lere Baale – CEO, Business School Netherlands, Nigeria, Senami Amusu – Fundraising Consultant, Growvest Financial Advisory ) with Damilola Hassan – Managing Director, Meristem Trustees Limited as panel moderator and SACO as moderator for the day.
LIFEPAGE, according to officials, is a real estate company provides investment opportunities for wealth creation and retention. "We do this primarily through real estate, and our mission is to develop products and services to help people from all walks of life achieve their financial and real estate dreams. Everything we do is built on the values ​​of integrity and hard work.
"We are dedicated to creating and retaining wealth, as we will always say; if it's not about building or retaining wealth, it's not Lifepage and that's because we believe the catalyst to building a trusted brand is business capability to keep its promises.