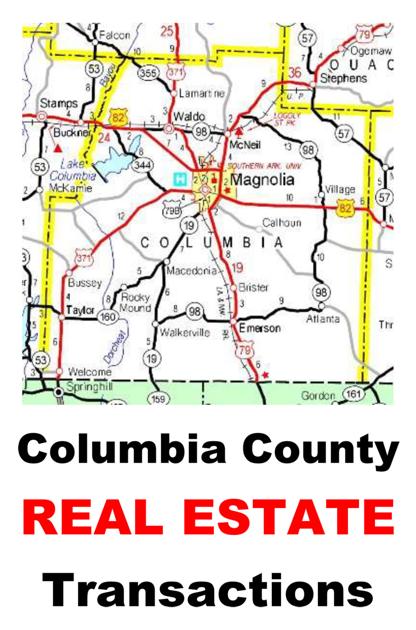 July 1-16 Real Estate Transactions in Columbia County | Business
Columbia County real estate transactions recorded July 1–16 are valued at $ 100,000 or more. The information is taken from public records held by the Columbia County Circuit Clerk and County Assessor, and the Secretary of State for Arkansas.
HOUSE AND 53 ACRES
The sale of 53.3 acres and a 4,336 square foot home on Columbia 25 in Magnolia cost $ 675,000. Betsy Lewis (director of the Betsy Lewis Revocable Trust) sold the property on July 16 to Jonathan Thompson. Thompson financed the purchase with a $ 475,000 loan from Quicken Loans, LLC. The Lewis Trust acquired the property on February 5, 2014, for $ 0 from Betsy Lewis by deed of guarantee.
CRESTWOOD APARTMENTS
A 4,320 square foot apartment building at 1307 E. Union St. in Magnolia (Crestwood Apartments) was sold on July 1 for $ 320,000. Chris and Molly Properties, LLC – Chris and Molly Drake – purchased the building from J. Charles Investments of Arkansas, LLC, funded by a loan of $ 248,792.92 from Farmers Bank and Trust. J. Charles Investments acquired this property on March 15 for $ 0 from Shannon R. Milam by deed of guarantee.
MOKINGBIRD STREET
A 2,701 square foot home on Mockingbird Street in Magnolia was sold on July 8 for $ 235,000. Danny Haire and Megan Haire sold the property to James R. Johnson and Tracy L. Johnson. The Johnsons financed this purchase with a mortgage of $ 223,250 from Bank of Little Rock Mortgage Corp. Les Haires acquired the property on January 14, 2014, for $ 219,000 from Brian Scott Cowling by deed of guarantee.
FRAMEWORK
A sale of land by a logging company on July 9 brought in a price of $ 150,000. Arkansas Pulpwood Co., Inc. sold 41.57 acres in areas W / 2 NW / 4 NW / 4, SW / 4 NW / 4, S-19, T-17 South, R-18 West to Turk Land, LLC. No mortgage or loan information was available. Arkansas Pulpwood acquired this acreage on June 17 for $ 500,000 from Susan Floy Currie et al by deed of guarantee.
SMITH STREET SALE
A 1,705 square foot home on Smith Street in Magnolia changed hands on July 9 for $ 100,000. William H. Bruce and Jayme Armstrong Bruce sold the property to Sasha Byers. This sale is financed by a mortgage of $ 95,705 from Arvest Bank. In addition, two loans (mortgage grants) of $ 10,000 each were registered on July 13 by the Arkansas Development Finance Authority. The Bruces acquired this property on December 13, 2019 for $ 93,000 from Justin and Ellana Stewart by deed of guarantee.
SEE THE LIGHT
A 2,155 square foot home on Howard Street was sold on July 8 for $ 142,000. William Maxwell Light and Tracy Lea Light purchased the property from Amber King and Josh King, funded by a $ 145,000 loan from Farm Credit Services of Western Arkansas, FCLA. A mortgage of $ 1,015,000 secures the loan of $ 145,000 as well as a second loan of $ 870,000. This deal included both the Howard Street home and two plots of land at S-21, T-13S, R-22 W and S-22, T-18S, R-22 W in Nevada County. Mr. and Mrs. King acquired the Howard Street house on May 12, 2017 for $ 0 from Donna Jill Woodard and Mark Smith as a deed of guarantee.
LACARI STREET
The sale of a 2,165 square foot home on LaCari Street on July 15 brought in a price gag of $ 169,900. REE-MAG Investments, LLC sold the property to Calum James Graham and Olivia Blaire Graham. The Grahams financed this transaction with a loan of $ 152,900 from Farmers Bank and Trust. REE-MAG Investments LLC, incorporated in 2013 by Robert McDonald, received this property on December 1, 2017, for $ 0 from Alta Malone by deed of guarantee.
LUCKY 13
On July 15, Linda Tucker purchased an 1,843 square foot, 2.46 acre home on Columbia 13 in Magnolia from Cindy Martin Real Estate. Tucker and Russell E. Chace Jr. financed this purchase with a mortgage of $ 293,185 from Peoples Bank. Cindy Martin Real Estate acquired this property on February 20, 2020 for $ 90,000 from Jerry Keith and Pam Walley by deed of guarantee.
ALICE REMAINS
A 1,374 square foot house on Alice Street was sold on July 15 for $ 140,000. Justin Wayne Gaskin and Emily Nicole Gaskin sold the property to Jeffrey Dylan Powell and Itzela Cruz-Powell, who financed the purchase with a $ 135,327 loan from Quicken Loans, LLC. The Gaskins acquired this property on September 17, 2018 for $ 128,000 from Gary and Kandice Herron by deed of guarantee.
CLICK HERE to view June real estate transactions.