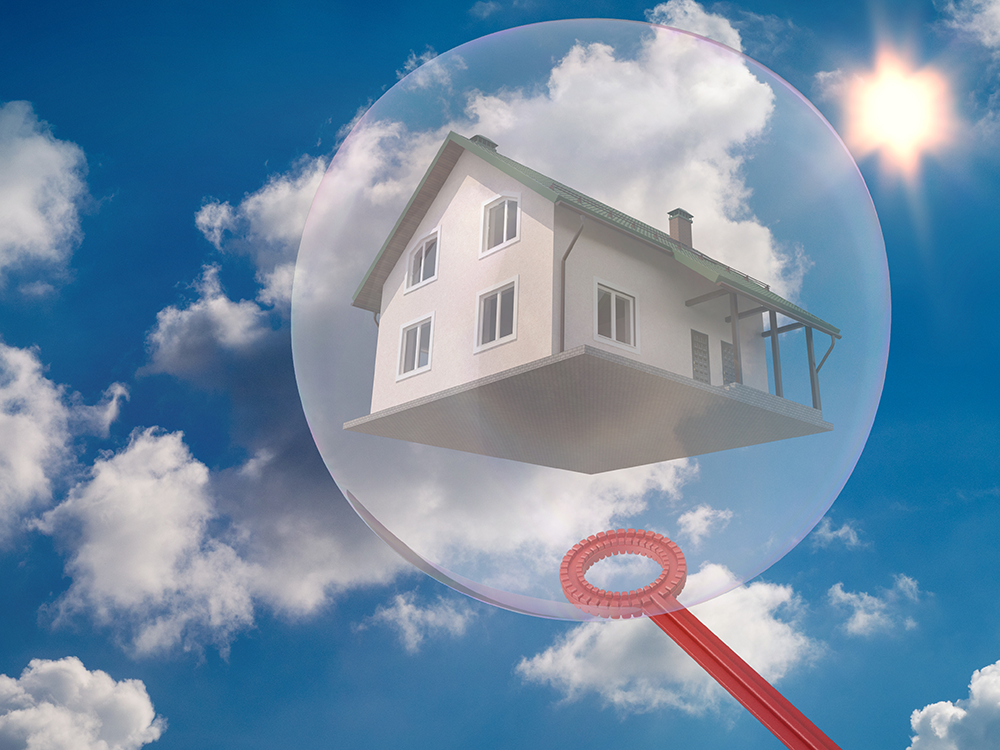 Has the Canadian real estate bubble burst? It depends on your point of view
It is important, however, to set parameters defining the bubbles to have a better grip on the real estate market
Content of the article
Some economists claim that the Canadian housing bubble has burst. Housing markets have indeed slowed considerably since their peak in February and March, but, unfortunately, economic bubbles are notoriously difficult to identify and are often not observed until after they have burst.
Content of the article
It would probably be necessary to define parameters defining the bubbles to have a better grip on the markets. For example, is the bubble defined by a collapse in house prices, sales, or both? Should market movement be measured from peak to trough, or considered month-to-month or year-to-year? How much of a drop in prices and sales constitutes a burst bubble, rather than just normal market fluctuations in response to changes in demand or regulatory frameworks?
Content of the article
A review of housing market indicators quickly reveals that any conclusion about the state of housing markets depends on the benchmarks used to study them. Peak-to-trough comparisons suggest much larger price declines than year-over-year comparisons reveal. Benchmarks aren't as meaningful for comparing declining sales, which are significantly down year-over-year and from high to low.
Content of the article
A recent report from RBC Economics concluded that the expected slowdown in home sales and prices was the result of soaring interest rates. RBC expects interest rates to rise further and projects that "the national benchmark price will fall 14% from (quarterly) peak to trough."
Again, benchmark prices may differ from average prices, which do not take into account differences in housing quality and size over time. Sales activity during a recession may shift from larger, higher quality homes to smaller, lower quality homes; therefore, any change in average prices will not represent the change in the price of an average home.
At the same time, some housing markets will experience a larger decline in sales and prices than others. For example, the RBC report shows that real estate activity in Calgary has shown more resilience than in Toronto.
Content of the article
Consider that the MLS Home Price Index (HPI), which takes into account differences in housing size and quality, fell 1.3% in Toronto in October compared to the same period last year, while that Calgary grew by 9.1%.
The peak-to-trough declines were also more pronounced in Toronto than in Calgary. Calgary's HPI fell 4.2% in October after peaking in May. In Toronto, the index is down 18% from its peak in March. The RBC report noted that lower prices in Toronto have already returned half of the gains made during the pandemic.
The fall in real estate transactions is greater than that in prices. October sales were down 49% in Toronto from the same period a year ago. Other major housing markets posted smaller annual declines, including Vancouver of 45.5% and Montreal of 35%. Annual home sales in Calgary fell even less, at 14.9%.
Content of the article
Toronto home sales drop 49% as benchmark prices fall

Mortgage lender halts payments as loan repayments slow

Vancouver real estate sales down 45% in October
Does the 49% drop in sales constitute a bursting of the bubble? Consider that the ultra-low interest rates introduced earlier in the pandemic fueled sales growth so that compared to 2019, 60,000 more homes were sold in 2020 and over 170,000 were sold in 2021 in Canada.
This year, a reversal in the interest rate regime brings housing markets back to pre-pandemic levels. Even with soaring interest rates, the Canadian Real Estate Association forecasts more sales in 2022 and 2023 than in 2019. Higher sales forecasts than before the pandemic suggest housing demand will likely be strong once the dust settles on interest rates.
There is no denying that Canadian housing markets have experienced a noticeable and expected slowdown since February. Does this constitute a bust bubble? The answer lies in his perspective.
Murtaza Haider is Professor of Property Management and Director of the Urban Analytics Institute at Toronto Metropolitan University. Stephen Moranis is a veteran of the real estate industry. They can be contacted on the Bulletin Haider-Moranis website, www.hmbulletin.com.