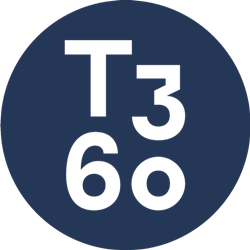 2022 real estate hot tech products featured in Tech 500

LADERA RANCH, Calif. (PRWEB)
March 15, 2022
T3 Sixty, a real estate management consulting and analysis firm, today released the Tech 500 2022, the company's annual analysis of the leading technology companies and products in the real estate industry. The publication, which organizes 369 product highlights from 262 companies into 65 functional categories, reflects the continued impact of real estate technology consolidation with 38 fewer companies included in this year's report.
"Now more than ever, it's critical that leaders know which technology vendors can deliver at the highest level, and the Tech 500 does just that," said Travis Saxton, executive vice president of technology at T3 Sixty.
To create the publication each year, T3 Sixty team members devote hundreds of hours to identifying, researching and evaluating cutting-edge technology products from more than 2,000 companies serving the residential brokerage industry. Following its systematic, comprehensive and authoritative analysis of leading technology products and companies, T3 Sixty introduces the Tech 500 as an annual resource for real estate business solutions.
The technology products included in the publication are grouped according to the T3 Sixty real estate technology landscape, a functional representation of the consumer sales cycle, delineated into seven sections and categorized as follows:

Enterprise (3 categories): solutions for large operations with many features

Top of the Funnel (25 categories): consumer engagement

Middle of the funnel (16 categories): building relationships for conversions

Bottom of the funnel (9 categories): processing or managing the transaction

Post Funnel (4 categories): solutions to support the end or post of transactions

Broker Platform (7 categories): solutions that support brokerage operations

Other Technologies (1 category): miscellaneous products and services
The 2022 Tech 500 also includes two new categories:
Digital Payments, which includes core products that help brokers, teams, and agents digitally manage payments, including deposits, cryptocurrency, and NFTs.

Data Services, which includes products that provide data, including public records, MLS data, ratings, and geographic boundaries.
"The Tech 500 has become the benchmark for brokers, teams and agents looking for best-in-class products to power their businesses," Saxton said. "Our technology team carefully assesses products across all categories and produces the comprehensive and unbiased publication. The companies we feature have demonstrated stability, bandwidth, capital and vision. »
In the 12 months following the publication of last year's edition of the report, significant real estate technology acquisition activity continued to drive consolidation. T3 Sixty's technology team has closely followed the changes that have taken place in the world of technology over the past year, which are reflected in this year's edition. Some of the companies included this year that have made strides since the release of last year's edition include:
Elm Street Technology, a company that operates a portfolio of distinct technology companies, acquired three real estate technology companies: Ixact Contact, Morris Marketing Group and OutboundEngine.

Lone Wolf Technologies, which builds a complete industrial platform, acquired three companies: HomeSpotter, LionDesk and Terradatum.

IntelliAgent, a subsidiary of Fathom Realty, acquired LiveBy.

CoStar Group, after acquiring Tech 500 company Homesnap in 2020, acquired another Tech 500 company, Homes.com, in 2021.
"This is a dynamic time for our industry as big data, big players and massive investment converge to recreate the real estate experience for brokers, agents and consumers," said Jack Miller, President and CEO. by T3 Sixty. "Brokerages are leveraging new technologies such as integrated brokerage platforms and advanced back-office products to streamline workflows and comprehensively support their agents with comprehensive business applications."
The publication is the third section of T3 Sixty's Real Estate Almanac, an annual compendium of all things real estate. To review the 2022 Tech 500, visit realestatealmanac.com.
About T3 Sixty

T3 Sixty is a trusted advisor and management consulting firm in the residential real estate brokerage industry. T3 Sixty also provides extensive data and research services to impact intelligent change and growth. To learn more, visit t360.com.
About the Tech 500

The Tech 500, which analyzes cutting-edge technologies in the residential real estate industry, is the third section of the annual Real Estate Almanac, an annual compendium of information that includes a ranking of the most powerful leaders in real estate (SP 200), a list of its largest MLSs and associations of real estate agents (ORE 200), a list of the largest holding companies, franchise brands and public companies (Enterprise) in the country and a list of 1,000 largest brokerages in the country (Mega 1000). For more information, visit realestatealmanac.com.
About the Real Estate Almanac

Each year, T3 Sixty analyzes and publishes a comprehensive industry report in the Real Estate Almanac. It is made up of five parts, published sequentially online during the first five months of each year: Frameworks (SP 200, January); organized real estate organizations (MLS 200 and ORE 200, February); technology providers (Tech 500, March); holding companies, franchise brands and public companies (Enterprise, April); and the nation's largest brokerage firms (Mega 1000, May). All research, analysis and rankings are compiled annually by the T3 Sixty team. More information at realestatealmanac.com.
Share the article on social networks or by e-mail: